Are you ready to begin COPD treatment?
Managing a chronic, progressive disease like COPD takes time, courage, and daily commitment. It may not always be easy, but keeping the benefits of your treatment in mind can help you take positive steps right from the start.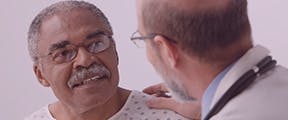 What to consider before you start
Considering a COPD treatment for the first time or even beginning a new COPD treatment plan can bring up a lot of questions.
Here are some helpful tips:
Make sure you "connect" with your doctor.
You and your doctor will be partners in managing your COPD over the long term, so it's important to feel comfortable with each other. Are you able to speak easily with each other? Is your doctor encouraging? Does he or she explain things clearly?

You'll also need to provide your doctor with the medical information he or she will need to help you find the right treatment for your symptoms. Typically you'll need to provide a complete health history including any health conditions, allergies, or hospitalizations, plus a list of medications and supplements you are taking. Get more tips for talking with your doctor.

Know if your medicines are covered by your health insurance.
Find out if the COPD treatments your doctor recommends are covered under your insurance. If not, your doctor may choose to prescribe a different treatment.

If your medicine is covered by your insurance, find out if there are any savings on your prescription.

If your medicine is not covered by insurance, or if you are uninsured, find out if you qualify for savings.

Understand each of your COPD treatments.
You may be prescribed one or more COPD medicines to control different symptoms. Understand how they differ and why you need to take all of them.
Understand how your treatment plan may affect your activities and daily routine. For example, when and how often will you need to take your medication? Will you need to use a daily maintenance inhaler in addition to a rescue inhaler? Will you need to take a daily pill or use a nebulizer?
Understand the benefits as well as the risks, and what to do if you experience side effects.

Know how and when to use your COPD treatments.
If you've been prescribed an inhaler, your doctor, nurse, or pharmacist will usually show you how to use it correctly. If not, make sure you ask!
Be sure you can use your inhaler as directed. For example, do health issues like arthritis affect your ability to handle and use an inhaler?
Decide on what time(s) of day you can take your medication(s). Make it work for you, but stick to the same time(s) every day.
If you're using more than 1 inhaler, be mindful of different dosing schedules. Rescue inhalers are used as needed when you find it more difficult to breathe than usual. Daily maintenance inhalers are used 1 or more times per day, depending on your prescription. If this is a problem for you, ask your doctor about your options.
If you already take medications for other conditions, ask your doctor how to incorporate your COPD treatments into your regimen.
Be patient. Stick with your routine.
If you are prescribed daily maintenance therapy, you should keep taking it, even when you're feeling better.
After you've begun your treatment plan, the next step is learning how to make it a part of your everyday life. When you're ready, visit us again to get tips for staying on your treatment plan.
Get your COPD Treatment Guide.
Answer a few questions to learn about COPD treatments that may help you or the one you care for.