Staying on your COPD treatment plan
Once you and your doctor have created a treatment plan, the next step is making it a part of your daily life. Here are some tips to help you get into the groove of your new routine.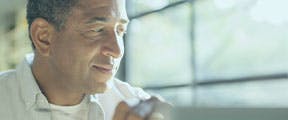 Make it a habit. Take your COPD maintenance medication(s) at the same time(s) every day, as prescribed. Set a reminder on your mobile phone so you don't forget.
Get in sync. Schedule your medication(s) along with other daily routines, such as before or after certain meals, or when you brush your teeth in the morning or evening.
Stay organized. If you need to use oral meds, use a weekly pillbox that has sections for each day and different times of the day.
Set up automatic prescription refills and text reminders. Just ask your pharmacy to set you up in their automated system.
Travel smart. Before you leave, make sure that you will have enough COPD medicine during your trip. It's also a good idea to keep your medications with you in your carry-on bag. For extra peace of mind, keep copies of your prescriptions just in case you lose, misplace, or run out of your medicine.
Keep family and friends in the loop. Let them know if you need help getting to a doctor's appointment, using your inhaler, picking up your prescription, or completing daily tasks.
Be a team player. Let your healthcare team know about any new symptoms or concerns and how you're managing your medication routine. Need help jotting down all you need to say? Fill out the Doctor Discussion Guide and take it to your next appointment.
Get your COPD Treatment Guide.
Answer a few questions to learn about COPD treatments that may help you or the one you care for.